British Warship - HMS Winchester
Welcome!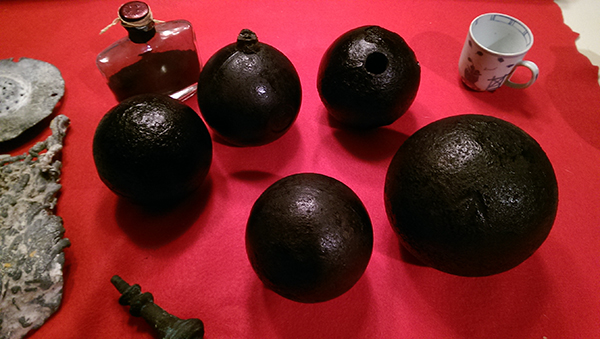 View some of our current collections for sale here.
We are currently cataloging items, removing encrustation, performing reverse electrolysis and making items available for sale. You can guess we are quite busy. We have over 3500 items we are working with and we ask you to please be patient. There are new additions to our online store and web site almost daily.
We are very interested in selling encrusted artifacts and keeping as many items together as possible. We are also interested in selling to schools, museums and other public displays. We will provide substantial discounts for bulk purchases.
See some of our lead items here!
Feel free to contact us at process@britishwarship.com
The HMS Winchester
The 944 ton, 4th Rate 60 gun British man-of-war Winchester was built in 1693 at Bursledon by William Wyatt. She was 121 feet long, and she had a 38 foot beam. The Winchester was originally commissioned in 1693 under the command of Captain Edward Bibb. While en route from Jamaica to England, a plaque on board quickly spread throughout her crew, rendering them unable to perform their duties. Her Captain, who was also sick, was put ashore in Jamaica. The Winchester's command was turned over to Captain John Soule. After leaving Port Royal, the crew continued to drop like flies from the scurvy. One report lists only eight able bodied seamen still standing when she was sailed onto a reef on September 24, 1695. A few of her crew including Captain Soule were transferred to another vessel. Captain Soule died later, and unfortunately almost all 400 of her crew were lost.
| | |
| --- | --- |
| Read more about this wreck and salvage here | |
We are currently completing our inventory and running items through restoration. Full inventory will be here by early 2015. Items will be listed in our store as they are available.
A few items will be offered including the main collection. We welcome any opportunity to keep the collection together and will consider all reasonable offers.
One of the most enjoyable things about English Shipwrecks is finding the Broad Arrow stamped on items. We are finding more every day.

Read about the Broad Arrow history here