About The Ship
In the late 1600's a ship wrecked on a reef in the Florida Keys. It was a British Warship named the HMS Winchester. Most of their story slipped beneath the waves with the ship itself or has been lost to time.
In 1938 two fishermen, Jacob Monroe and Sam Lynch, with boat problems came to the dock of Charles M. Brookfield's tourist lodge on Elliot Key. Brookfield offered to helped them. The next day they told him that they had found many cannon on the ocean floor at Carysfort Reef, which were later determined by Brookfield's inquiry to the British admiralty to be the remains of a British warship, H.M.S. Winchester. Charles Brookfield later hired divers and brought up silver coins, musket balls, cannonballs, anchors, a prayer book and the cannons.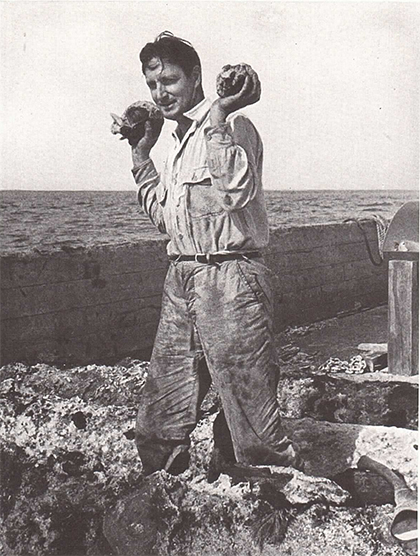 In the early 50's another young man filled with life and adventure also slipped beneath the waves at Carysfort Reef, not to fish, but to explore. Scuba diving was new and only the brave tried this new sport. What he found was the remains of this majestic ship. He talked with locals and a marine archaeologist who accompanied him on his first few dives. Back in these days it was gold and silver that was valued, and only if it was easy picking. Once it was determined this was not a treasure ship, and the cannons had been taken, everyone lost interest, except for my father. He valued the history, something that would not come into fashion for years.
For many months in the early 1950's he spent most of his days under the waves. He always said, "Take all or nothing". He kept maps on the location of each item, taught to him by his archaeologist friend, and brought his finds to a friend's lagoon keeping them safe until he had the ability to preserve the artifacts. Other treasure hunters had found many remarkable artifacts, including a gold watch, and pewter ware.
Life, a wife and children came. A great career, a house and projects took the time once promised for his "collection". The adventure of his youth was now 1500 miles away, safe, but silent. He continued his adventures on the water, but these were weekends on small boats on lakes in the north.
He rarely spoke of the adventure, I always guessed it caused a rift with my mother. But as I grew older he told me his tales. One day he became sick and gave me a name. He said now is the time, and after his death I left for the warm south. I looked up his friend and he showed me the lagoon. "If only people knew" he said.
My wife and I spend 6 years recovering every item, and learning how to store and preserve these priceless pieces of history. Reverse electrolysis, anodes, and electrolytes became our conversations.
Life and a hard economic time came. The artifacts sat, but not quiet. They took every square inch of our garage. They were checked and rechecked and watched over.
We have said a thousand times, these have to be shared. Now is the time.
1500 artifacts, about 1200 yet to have their coral encrustation removed. We know some of what we have but the rest is yet unknown. It takes 30 minutes to an hour to remove the encrustation from just one artifact. What we will find is unknown but we do know every piece will be an important piece of history from the late 1600's.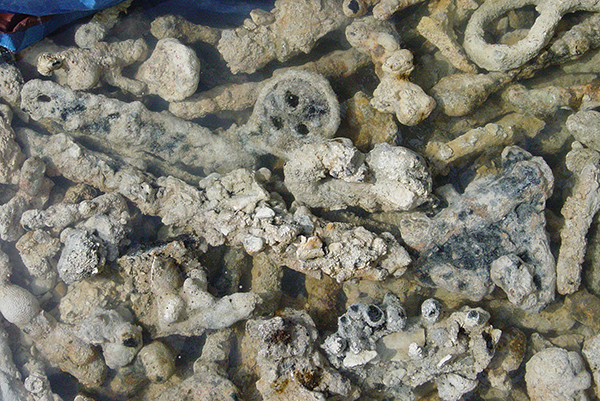 I am a US Coast Guard certified Captain, a PADI certified Divemaster and Rescue Diver, and the director of a national nonprofit organization. I have hundreds of hours of research, training and experience with historical artifact restoration and have pioneered many successful techniques. We consider this collection a personal responsibility, not only for its care and preservation, but that its historical data is never lost.
All items will be forever registered in our online registry, www.foreveronline.us
The HMS Winchester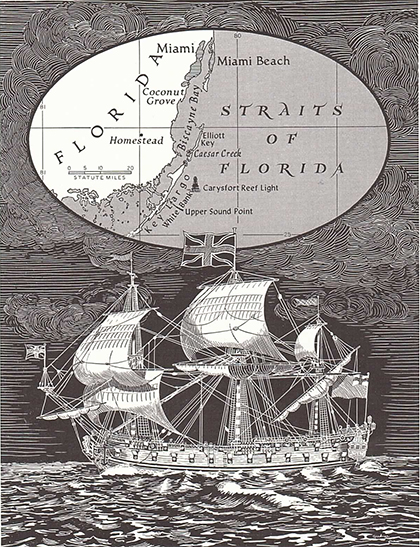 The 944 ton, 4th Rate 60 gun British man-of-war Winchester was built in 1693 at Bursledon by William Wyatt. She was 121 feet long, and she had a 38 foot beam. The Winchester was originally commissioned in 1693 under the command of Captain Edward Bibb. While en route from Jamaica to England, a plaque on board quickly spread throughout her crew, rendering them unable to perform their duties. Her Captain, who was also sick, was put ashore in Jamaica. The Winchester's command was turned over to Captain John Soule. After leaving Port Royal, the crew continued to drop like flies from the scurvy. One report lists only eight able bodied seamen still standing when she was sailed onto a reef on September 24, 1695. A few of her crew including Captain Soule were transferred to another vessel. Captain Soule died later, and unfortunately almost all 400 of her crew were lost.